CD "Moments in Paris"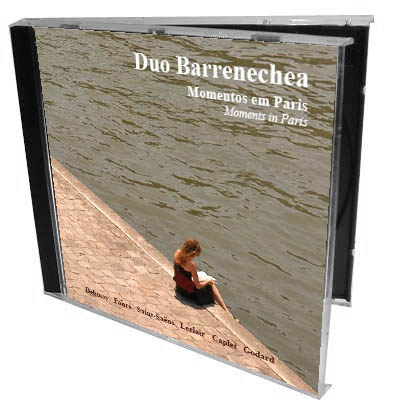 Duo Barrenechea CD "Moments in Paris"
Sérgio Barrenechea, flute and Lúcia Barrenechea, piano
For many centuries, Paris has been one of the most important cultural centers of the Western World, harbouring great artists, among them, famous musicians and composers. This can be observed through the works for flute and piano presented in this album by the Duo Barrenechea, which provides an opportunity to glance over genres and styles explored by Debussy, Leclair, Saint-Saëns, Fauré, Caplet and Godard in the Cité Lumière.
CD´s Repertoire
Claude Debussy (1862-1918) Prélude à l'après-midi d´un faune (1894)
Gabriel Fauré (1845 - 1924) Fantaisie, Op. 79(1898 )
Camille Saint-Saëns (1835 - 1921) Romance, Op. 37 (1871)
Jean-Marie Leclair (1697-1764) Sonata em Sol maior, Op. 9 nº.7 (circa 1743)
Andre Caplet (1878 - 1925) Rêverie et Petite Valse (1905)
Benjamin Godard (1849 - 1895) Suite de morceaux, Op. 116 (1889)
This album was released by Ethos Brasil
e-mail: cds@ethosbrasil.com
Phones (55-21) 2221-8861 and (55-21) 2507-8121.
Recording: Jirau Home Estudio, Goiânia, Goiás, 2005
Producer: Sérgio Barrenechea
Editing and Mixing: Sérgio Barrenechea e Flavio Goulart
Masterization: Flavio Goulart
Photos: Sérgio Barrenechea (Duo) Layza Vasconcelos (Paris)
Graphic Design: Oficina Cultural Geppeto
Buy the CD online through:
Tweet